you're always at home at moniack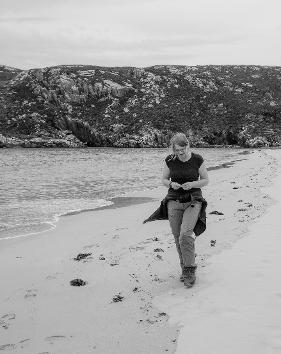 about your host
Hello. I'm Antonia - together with my husband, Richard, I run the holiday accommodation rental business - Moniack Lodges - two, cosy waterside self-catering chalets with woodland gardens just a few fields away from our home in the countryside, near Beauly, Inverness.
I'm a lover of food (especially cheese...wine too), travel, long walks in the countryside - through forests and across moorland - and never happier than when outdoors and with my family.
I love a wee trail run with our dogs, a German shorthaired pointer named Olive and a wirehaired pointer pup named Truda, and paddle in my canoe on our local lochs whenever I get the chance.
When I'm not busy with preparing for and greeting guests, I'm bat watching - our other business is a bat consultancy and advice service... really interesting work, which brings lots of opportunities to see a variety of bats flitting by and to enjoy many a beautiful Highland sunrise and sunset.
I like to travel light and often like to stay in 'off-the-beaten-track' locations - Richard and I are both keen photographers (me...a snapper really) and also really enjoy tasting local foods; we love cooking, so try to snaffle the odd recipe along the way.
I love welcoming visitors to Moniack and the Highlands; I feel really lucky to live where I do and enjoy sharing what I love about the Scottish Highlands, my favourite places to visit, best walks, views and eateries.
Why I chose Moniack...
Trees and forest trails... and the Scottish Highlands... the hills, beaches, lochs, wildlife, wild places. Apart from the nearby, well-known visitor attractions, such as Loch Ness, Glen Affric and Urquhart Castle, which are all family favourites, discovering hidden gems like Glen Strathfarrar, for peace and picnics, Farigaig forest walks on the south side of Loch Ness, with it's fabulous view point allowing a for a wee bit of Nessie spotting, and the narrow, less-often walked winding paths of Reelig Glen woodland is what I enjoy most of all; add to that the city of Inverness - Gateway to the Highlands: an ideal location for exploring the north of Scotland, its outstanding coast and countryside - and nearby Beauly village, which has all you need day to day, it's the perfect location - we were once holiday-makers here and loved it so much, we chose to make our family home here!
What makes this place unique?
This pretty glen, Reelig, and its forest walks, amongst some of the tallest trees in Britain, is what kept us coming back to this corner of the Scottish Highlands; a wildlife haven, where red squirrels and pine marten are regularly spotted. I love the smell of the woods, the changes in colour and light, the sound of Moniack burn running down from the gorge... fabulous! I'm sure you will fall in love too...
Copyright Moniack Lodges, Inverness